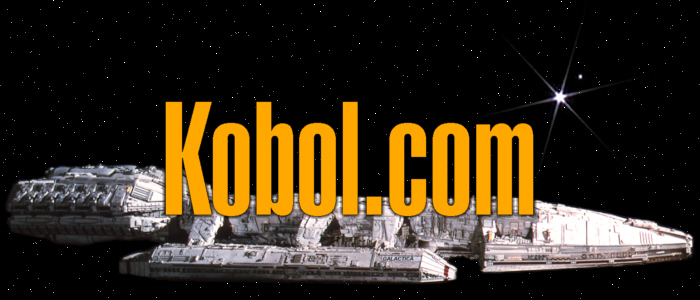 Battlestar Galactica Database
Writer's Guide
This is the eight page Battlestar Galactica Writer's guide. I've transcribed it verbatim, all spellings, capitalization and page breaks are as they were in the original. The numbers in some of the margins are shorthand for Universal's production numbers for the episodes. For example, 902 refers to 50902, The Long Patrol.
You'll find terms here that never made it to the final edits of the episodes. Conversely, there are terms used in the episodes that do not appear in this guide. You'll also find that some of the definitions of terms here contradict the context the terms were used in and some spellings that defy the pronunciations uttered on the show.
The bottom line is, it is what it is. Enjoy.
Chris
10/2/78

GALACTICA

TERMINOLOGY SHEET

*Recurring Characters

MAIN CAST
*ADAMA - Commander of the Galactica and Rag Tag Fleet. Father of Apollo and Athena
*APOLLO - Adama's elder son - Captain of Blue Squadron
*STARBUCK - Lieutenant - Fighter pilot, pursued by both Athena and Cassieopia
*BOOMER - Lieutenant - Unflappable pilot and companion of Apollo and Starbuck
*ATHENA - Adama's Daughter - shuttle pilot, bridge officer - in love with Starbuck
*COLONEL TIGH - Second in command to Adama
*BOXEY - Apollo's son, after his marriage to Serina
*MUFFIT - Drone replacement of Boxey's daggit (dog) who was killed in the Cylon attack
*CASSIOPEA - Socialator turned medical corpsman - in love with Starbuck
*BALTAR - Traitor to humans, works with Cylons
*RIGEL - Launch controller
*OMEGA - Bridge operations coordinator
SERINA - News reporter - Boxey's mom - marries Apollo
JOLLY - Hefty, good-natured flight sergeant
GILES - Handsome flight sergeant
GREENBEAN - Thin flight sergeant
*IMPERIOUS LEADER - Reptilian leader of Cylons
*VULPA - Cylon Commander
*LUCIFER - Highly developed series Cylon, right arm to Baltar
| | |
| --- | --- |
| | TERMS |
| 902 | AGRO PARTS - Items used by farmers |
| 902 | AMBROSA - Scotch type drink, delicious, rare and very valuable - NOTE: DO NOT PRONOUNCE "AMBROSIA" |
| | ASTRALONS - Meteor-like substances damaging to starships |
| | BATTLESTAR - Immense fighter ship, a spatial aircraft carrier and battleship combined |
| | CLAXON - Siren or warning bell |
| | COLONY - Planet |
| 908 | CONSUMABLES - Cylon word for food |
| 904 | CRAWLON - Spider |
| 904 | CRYOGENIC SUSPENSION - Process of freezing humans in cryogen tubes until source of their infection can be determined |
| | CUBIT - Gold coin, used for money |
| 904 | DECONTAMINATION - Process which all pilots must undergo on returning form a space mission |
| 202 | DI-ETHANE - Type of blizzardy storm |
| 202 | EDICT OF EXTERMINATION - Cylon's commitment to eradicate the humanoids |
| 904 | FUMARELLO - Cigar |
| | GOLDEN CLUSTER - Humans' highest battle award |
| | GROG - Rum-like beverage |
| 902 | HYDRONIC MUSHIES - Very tasty health food |
| 904 | INSTRUCTIONAL PERIOD - School |
| 202 | K BISCUIT - Snack food |
| | LANDRAM - Transport vehicle used on surfaces |
| 902 | LASER GENERATORS - Starship mechanism that fires the lasers |
| 908 | LUPUS - Wolf-like animal |
| 904 | MAGNETIC SEA (OR ABYSS) - Endless black void in space |
| | MINE - Hive-like structures on Carillon where Chosen Creatures extract tylium |
TERMS - 2

908

NUMO - Compressed air gun, ineffective except for short distance shooting

908

OVINES - Sheep-like animals

902

PERFECT PYRAMID - Probably like a royal flush; i.e. a winning hand at cards
PLUTON - Poisonous substance generated from fallout of neutron elements which contaminates food
PRIMARIES - Basic, healthy food

202

PULSAR - (ALSO KNOWN AS ULTIMATE WEAPON, RAVASHOL LASER) Located on the asteroid, Arcta, invented by Dr. Ravashol, originally to communicate across the galaxy. In Cylon hands, converted to the most powerful weapon in the star system.

204

SEAL - Marry (used interchangeably)

904

SIMULATOR - Control Room aboard the Galactica where pilots train in simulated viper cockpits
SOCIALATOR - A great date
SOLIUM - Liquid substance used to propel vehicles
SOLENITE - Powerful explosive
BOOK OF STRATEGY - Fighter pilots' manual

202

SNOW RAM - Land vehicle for use on sub-zero planets

902

TOP PRIORITY SCRAMBLED CODE - Method of relaying messages from space vehicles back to Galactica

202

TULIPIAN BUDS - A side dish
TYLIUM - Volatile, valuable resource mined on Carillon

905

VALCRON - Simple, cotton-type material used for curtains, etc.

902

VAPOR POINT - Point at which any element vaporizes

| | |
| --- | --- |
| WEAPONS | TURBOLASER - Viper weapon |
| | LASER - Holstered gun, fires blast of light |
| | SHORT-SPANS, COMAS, BRAIN CRYSTALS - Chemical weapons, usually encapsulated, which produce result suggested by their names |

WARSHIP OF THE SUNSTORM - Gemonese religious ceremony noted for physical contact between genders
WARBOOK - Visual reference library of all characteristics of enemy warships
| | |
| --- | --- |
| | EXPRESSIONS |
| | Cut through the feldergarb - Eliminate the bull |
| | Frack! - an expletive |
| | Sniff plant vapors - Similar to "Take drugs" |
| | "By your leave" - Cylon response to Imperious Leader commands |
| 902 | Scare the pogees out of - Frighten |
| 902 | Jar my chips - Shake me up |
| 902 | For Sagan's sake - For God's sake |
| 902 | Eating ion vapors - Eating the dust of a passing fighter plane |
| | |
| --- | --- |
| | BEINGS |
| | HUMANS - All main characters - former inhabitants of Caprica and other planets destroyed by Cylons |
| | HUMAMOIDS - Cylon name for humans |
| | CYLONS - Armor-covered, robotized race bent on destroying all humans |
| | CENTURIONS - Cylon G.I.'s |
| | COUNCIL OF THE TWELVE - Legislative quorum of representatives from all twelve planets or colonies |
| | ALLIANCE - Evil group of Cylons, Chosen Creatures, etc., who work together to destroy the humans |
| | OVIONS - Insect-like inhabitants of Carillon, totally communal and without emotion |
| 908 | OVINERS - Farming/ranching people on Equellus |
| | OTORIS - A religious sect among the Gemonis who believe in physical contact between genders only ceremonies |
| | HASARIS - Small group at one time given aid by humans (similar to foreign aid) |
| | LORDS OF KOBOL - Governing and religious leaders of ancestors, from whom all humans evolved |
| | TUCANAS - Feline, three-dimensional creatures - singers on Carillon |
| | DRONES - Computerized units which can be fashioned to resemble humans or animals |
| | DAGGITS - Dogs |
| | CHOSEN CREATURES - Inhabitants of Carillon who employ slaves to do their menial tasks |
| 902 | ORIGINAL SINNERS - Residents of Proteus Prison, incarcerated and names for crimes their ancestors committed. Supplied with ambrosa from their captors, they naively believe they are still helping the thirteen colonies' war effort |
| | |
| --- | --- |
| | PLANETS/PLACES |
| 902 | AERIES - Planet of Aerians |
| | CAPRICA - Former planet of humans |
| 902 | CROTAN - Agricultural planet |
| | CARILLON - Food and fuel stop for humans in their search for Earth - opulent, pleasure-palace planet of Ovions |
| | CLUB ELITE - Private starship accommodations of Sire Uri |
| | CYLON - Planet of Cylons |
| 902 | CYRANUS GALAXY - Galaxy of Caprica and other planets destroyed by the Cylon invasion |
| | EARTH - The thirteenth colony, sought as a sanctuary by humans fleeing Cylons |
| 908 | EQUELLUS - Old West-type planet where Apollo is temporarily stranded |
| | GEMONI - Planet of Gemons |
| 908 | HATARI SYSTEM - Star system containing Equellus |
| | KALPA - The ice planet |
| 904 | KOBOL - Planet of human origin, only tombs of Lords exist there now |
| | NOVA OF MADAGON - Dangerous, blindingly bright alternate route to Carillon |
| | PICON - Planet of Picons |
| 902 | PROTEUS PRISON - Place where Original Sinners are held |
| 902 | QUOTARA - Magnificent star cluster where Rising Star sailed before the war |
| | SAGITARIA - Planet of Sagitarians |
| | SCORPION - Planet of Scorpions |
| | TAURON - Planet of Taurons |
| | VIRGON - Planet of Virgons |
| | |
| --- | --- |
| | SYSTEM OF MEASURES |
| | |
| | |
| | TIMES |
| | |
| | Centon - (sentonn) - equivalent of a minute |
| | Micron - a tenth of a centon |
| | Yahren - a year |
| | Millenium - a thousand years |
| | |
| | |
| | DISTANCES |
| | |
| | Metron (mettron) - approximately one meter |
| | Parsec (parseck) - 90 million miles (distance between sun & Earth) |
| | Hectare (hecktarr) - nine million miles |
| | |
| | |
| | WEIGHTS |
| | |
| | Megon - (meggon) - a ton |
| | |
| --- | --- |
| | VEHICLES |
| | RAG TAG FLEET - Vehicles carrying surviving humans away from Cylons |
| | TRANS STELLAR SPACE SERVICE - Spaceship |
| | GEMONI GREIGHT - Immense passenger vehicle |
| | ALPHA SHUTTLE & STARLINER - Transport ships |
| | TUARON BUS LINES - Small space trams |
| | RISING STAR - Luxury liner with Astral Restaurant |
| | SANITATION SHIP - Space-age garbage truck |
| | Also - Inter-galactic passenger liners, freighters, tankers, buses, air taxis, troop carriers, ships of burden |
| | GALACTICA - Super-speed carrier/battleship, sole surviving battleship of colonies |
| | COLONIAL VIPERS - Single seater fighter planes capable of exceeding light speed |
| | MINERAL SHIPS - Landram party (landing party) ships on Carillon |
| | RECON VIPER - Superspeed, unarmed, inter-stellar exploration ship equipped with audio activated computer named CORA |
| | SHUTTLE - Sub-light vehicle used to transport people or equipment |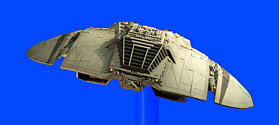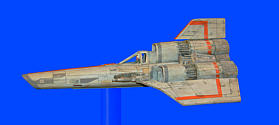 Copyright © 1997-2022
ChrisPappas.com.
All Rights Reserved

Writer's Guide text © 1978 Universal City Studios